Misaki Keeve is a fanmade character in the Inazuma Eleven Universe.
Misaki Keeve
First appearance
EXO (The series)
Created by
AngelKeeve
Voiced by
Keeveachu
Team/s
EXO
Element
Wood
Number
11
Position
Forward
Bio
Full Names
Misaki Keeve
Japanese Name
美咲
English Name
Angela Serene
Nickname/s
Keeve
Age
14
Birthdate
26 June 1998
Birthplace
God Eden Island (Spain in dub)
Nationality
Japanese (Spanish in Dub)
Notable Relatives
None
Family
Parents(diseased)
School/Class
Shibuya High School 11B

(Lady Manners School 11B In Dub)
Profile
'Her feelings are locked with a difficult password. A room that is closed for no one to open. Hacking a heart that has been closed.'
Appearence
Keeve has long pink hair usually tied in a bun. She has Lavender eyes. She is usually seen in her school uniform or the soccer team uniform. Her casual clothes are usually a black dress and a cross necklace.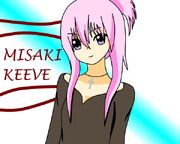 Personality
She is seen as a quiet and calm girl who doesn't like to talk much. She is seen to be friendly with her friends espically her best friend Garesu Nonosuke. She is shown to be a mysterious girl.
Background
Not much is known about Keeve's past or what happened to her family. Some think they might be dead since she doesn't talk about and acts like they don't even exist. She is also shown to live alone in a small house. It seems that she is sick with an unknown illness which gets over her body when playing rough That's why she is seen to be in a weak state sometimes and collapses.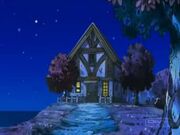 Plot(In dub)
She appears to be a transfer student from Spain who loves soccer. She appears to be in Gyaresu's class and becomes good friends with him. Then she is shown to join the team as a forward and is seen to be a really skilled player. She also seems to be bestfriends with Kazami Aqune. She appears to may have a little crush on Garesu. Later she is seen collapsed in her home and found by Garesu who takes her to a hospital where she has an operation. After that Garesu is seen visiting her a couple of times and then shocked by hearing that she got 3 years left for her to live. Afterwards it seems that Garesu decides to live with her to help here and try his best to make her life happy before she dies.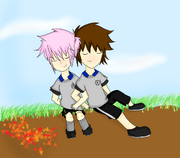 Hissastu
[SH] White Hurricane

[SH] Black Ash
Trivia
She is my first fanmade character.
In the Dub she is a transfer student from Spain.
I Love Shuu. (talk) 07:46, September 5, 2012 (UTC)